Fuel management and top-up services throughout Manchester and Cheshire
Never experience a fuel shortage again. EGS Fuels is proud to offer regular tank top-up services and fuel management advice so you never run out of kerosene, diesel or red diesel.  We have been in business since 1993, and our fuel management service is our way of sharing these decades of expertise with each and every one of our customers.
We understand the frustration and disruption that a sudden fuel shortage can bring, and we have developed our own fuel management plans to ensure that our customers are able to gain access to a constant source of fuel throughout the year, come rain or shine. By helping you to manage your fuel consumption, we can also help you save money as we can schedule your deliveries well in advance, and anticipate any possible shortage issues before they become apparent. When your fuel needs change, simply pick up the phone and we will amend your schedule and your order details accordingly.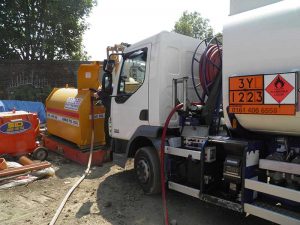 What does fuel top up and management involve?
Our fuel top of service is extremely straightforward – on an appointed day; our highly trained staff will visit your household or business to top up your supply of kerosene, diesel or red diesel. By arranging a regular delivery schedule with you, we are able to remove this administrative burden from you, saving you time, energy and money.
With each visit, we can record the amount of fuel that was used since the previous visit, which allows us to amend your order as required. For instance, most households tend to use a lot more heating oil during the colder months than they do during the summer, meaning that more regular top-ups may be required between November and March. But conversely, many farmers require extra red diesel to fuel heavy equipment during the busy planting and harvesting seasons. By factoring in these seasonal fluctuations, we can anticipate any high-use months and increase or decrease your order as needed.
Furthermore, by choosing us as your fuel managers, you will not have to store fuel reserves on your own property in case of an emergency. Instead, we will handle the safe and stable storage and delivery of fuel, leaving you to get on with more important issues.  
Get in touch
We offer fuel top up and management services to customers across the North West, whether you are using kerosene, diesel or red diesel. Our purpose-built mini tankers can get to the most remote parts of Cheshire, and our centrally located depot means that we are easily accessible from Manchester as well.
We are proud to offer flexible payment solutions so you can spread the cost of your bills over the year, and we can accept a range of different payment plans. We also offer an emergency fuel delivery service in case you are caught short.
If you want to learn more about our top up and fuel management services, get in touch by phone on 01625 873163 or by email.
Contact us for emergency or regular oil deliveries
Get in touch by phone on 01625 873163 or by email. Our depot is open 6 days a week between 7am and 6:30pm Monday to Thursday, 7am to 6pm on Friday. We also open Saturdays.
What Our Clients Say
 We've been delivering to our customers in Cheshire, Manchester and the North-West reliably and regularly for over 25 years.
We have been with EGS for  over 10 years. They keep our heating tank topped up over the winter months. Never had an issue with price or delivery … everything runs like clockwork

We ran out on Christmas Eve 2015 . EGS Fuels came out wihtin 2 hours and saved our Christmas!. Been with them ever since.

We have a complicated multi-drop site. EGS Fuels keep us topped up all year round. It's a great service, price and peace of mind!

We only take small 900 litre drops, but they give us great service and good prices. Been with EGS for 10 years.

I've been using EGS for 7 years now after my previous supplier let us down. They're very reliable and easy to contact. I like that they're a family business. We see them delivering to several houses on our road.